The Italian car maker is planning to come back in to the US market after 27 years with a new model retro styled Fiat 500 coupe. The 500 is a Fiat signature model. The goal is to gently re-establish Fiat in the U.S. over several years.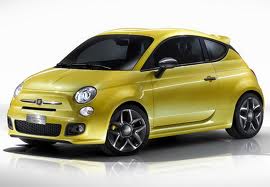 Coupe's powerplant is a 1.4L turbocharged petrol engine, having torque of 132lb-ft (180Nm) and horse power around 135hp (100kW). It has also an electronically controlled Common Rail Multi-jet Direct Injection fuel system. Some unique features of the car are a removable targa roof, a trademark white and red colour scheme and plenty of Abarth Scorpion logos both inside and out. The other feature is Fiat's Torque Transfer Control (TTC), which acts like a front limited slip differential and helps to improve traction. There is more insulation provided in this model to reduce noise in the cabin and a softer ride suspension.
The gas tank, at 10.5 gallons. The EPA mileage ratings for Fiat 500 coupe are 38 mpg highway, 30 city and 33 in combined driving with the five-speed manual transmission and the mileages with the six speed automatic are 34-27-30.
Prices for the 500 will start from $15,500 for the base model called the Pop, midlevel Sport model starts at $17,500, at the top is the Lounge with $19,500, which includes 15-inch aluminum wheels, automatic transmission and a sunroof.
But the reliability makes a big issue for the Fiat, as, Vehicle Ownership Satisfaction Study in Europe, conducted by J.D Power and Associates in 2010, reveals that, Fiat Cars were rated as the third worst among car brands sold in France, second worst in Britain and at the bottom in Germany.