Kia Motors America announced about their up coming model in 2012. KMA comes with Rio 5-door hatchback and Rio Sedan models in 2012. KMA says Rio is the first ISG technology sedan.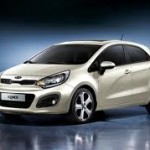 Rio models are available in three models, they are LX, EX and SX trims. 2012 Rio is offered with 1.6 L GDI four cylinder with option of either 6-speed transmission (LX only) or 6-speed automation. The model LX trim comes with additional features like multi reflector headlamps, 1.5 inches steel wheels with 185/65R15 tires. Further, Rio 5-door is also coming with standard rear spoiler which improve the aerodynamics.
The EX trim comes with more additional features than the LX, it comes with power door lock with automatic key-less entry facility. SX trim comes with 1.7 inches steel wheel with 205/45R17 tires, flog lamps, LED access light and signal indicator, etc.
2012 Rio comes with more safety features like anti-lock break system, vehicle stability management system, electronic stability management system and has six airbags.
Kia's Rio is giving competition to other auto makers in US with their effective striking exterior design, with revised interior and impressive performance.