According to the reports of Mark Phelan of the Detroit Free Press, 2013 Toyota Avalon is the largest car that Toyota builds. The car is a contingent watershed for the automaker, additionally this new model is the automaker's first car that is designed, engineered, built, sold and serviced completely in America.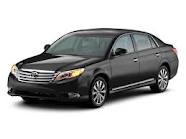 The Avalon is a big, front-wheel drive family sitter with a mainstream price. It's a class of vehicle that only exists and available in the U.S. Toyota build the Avalon in Georgetown, Ky. North America of U.S. virtually the only place where the car is sold. And some are exported to handful of Persian Gulfs.
It is a five-passenger four-door front-wheel drive sedan available in XL and XLS models. It shares the same platform with the new 2013 Lexus ES 350 Sedan. Compared to previous model, this new Avalon has a tighter, sportier and more exciting exterior view features.
In other parts of the world, this new model is available but in smaller sized cars with the same five-passenger capacity such as Chevrolet Malibu, Ford Fusion, Honda Accord and Toyota Camry.
Since 1994, the Avalon was intended nearly solely for American buyers but most of the design and engineering process for previous models was done in Japan but things are changed with the 2013 model.
In 2008 and 2009, Avalon development began. Due to the global financial crisis, Japan did not have the time or resources to remake a territorial vehicle whose last update had been a sales disappointment.
Toyota President realized that Toyota had taken a wrong turn and he committed to change that with more appealing designs, more engaging performance and "decentralized, regional development" unlike the traditional top-down process.
Randy Stephens, Avalon chief engineer and a team of young engineers based mostly at the company's North American tech center near Ann Arbor, Mich., stepped into the breach and worked to design the new one based on the other models of the world and rewrote the book on how the automaker develops vehicles and they made Avalon.
By looking at this model, Akio Toyoda said, "Don't change a thing."