Artifacts are objects that are made of ceramic, stone and other naturally occurring materials. They add a unique look and feel to the home and make it look appealing. Artifacts are not easily available, while some are expensive, some are affordable.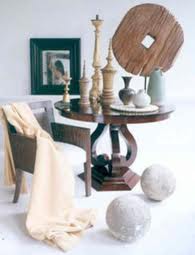 Decorating interiors with potteries made from different materials like terracotta, plaster of Paris will make it valuable, bring attractiveness to the home. Pots can nicely be decorated and painted in different styles, they can be kept in different corners of a room and the size of the pot must be matched with space.
Shining brass and bronze items give a rich and beautiful look to the home. Brass and bronze items have a traditional design and are suited for all types of interiors. The interiors can be decorated with items made from crystals. They must be handled with care, they provide quite beautiful and elegant look to the home. Some crystal items are transparent and in order to make them look bright some lighting must be provided. By providing light makes sure that the bulbs do not affect the crystal item. Things made from stone and wood have weight and provide a hard look for interiors. Stone and wood artifacts are best suited to keep in various areas near staircase landing, sit outs and living rooms.
While choosing artifacts for interior decorations for homes care, creativity and imagination must be exercised. Some artifacts are decorative and some are functional. They give a pleasant and unique look to the home.